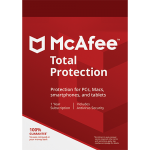 McAfee Total Protection (1 Year, 1 Device) [Download]
Publisher:

McAfee

MPN:

MTPEBF1RAA

Availability:

In Stock
Requires Product Activation (we supply product key)
Product Availability
Product Details
Publisher: McAfee
Part Number: MTPEBF1RAA
Media Type: Download
License Type: Full Product
Platform: Windows, Mac, Android, iOS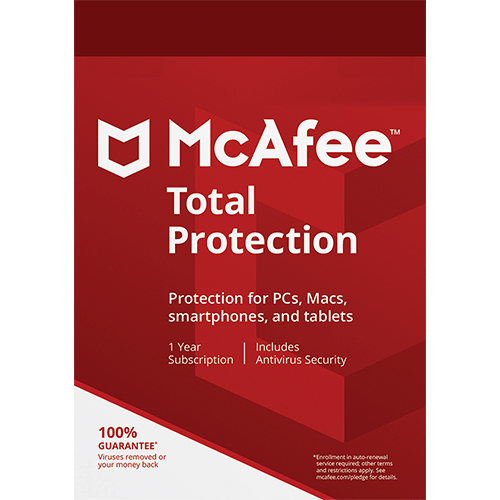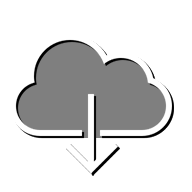 Don't wait for it in the mail, get it today!
Very Cheap Software is proud to offer McAfee Total Protection (1 Year, 1 Device) [Download] at a very affordable price. We only select the best software available for download. We focus mainly on very cheap antivirus software to help you protect your important information and privacy from criminals. Check with us every year for very big savings.
Product Description
Automatically updates to the very latest version.
Features
Powerful PC Protection
Stay safe from Trojans, viruses, spyware, rootkits, and more, with state-of-the-art anti-malware protection
Stop worrying about performance hits—the advanced scanning engine checks for threats quickly without compromising battery performance
Keep zero-day threats and botnets at bay—McAfee ActiveProtection™ and NetGuard™ technology have you covered
Folder and File Encryption
Secure your identity and data by locking your confidential files in a password-protected vault
Social Network Protection
Create brief, trustworthy URLs with a Safe URL Shortener and spread the news, not spam or malware
Wireless Network Protection
Keep eavesdroppers away from your passwords and personal files when connected to open wireless networks
Privacy and PC Optimization Tools
Find and patch holes in Windows and applications with McAfee Vulnerability Scanner
Enhance your PC's performance by deleting unnecessary files with McAfee QuickClean™
Securely destroy sensitive files, such as tax documents, with McAfee Shredder™
Additional Features
Effective Parental Controls
Block inappropriate sites and set time limits for Internet use
Check user login times, attempts to access forbidden sites, and total time spent online
See what your kids have been up to online with a detailed usage report
Spam and Dangerous Email Filter
Make sure dangerous and annoying emails never make it into your inbox with McAfee's most accurate filter yet
Two-Way Firewall
Shut out hackers and prevent malicious software from exploiting your OS or stealing your information
Network Intrusion Security
Find out if someone is stealing your Internet connection—My Home Network shows you all your connected devices
Advanced Web Protection
Know if a site you're about to visit is dangerous with McAfee SiteAdvisor®—just look for the red, yellow, and green safety ratings
Stay protected from phishing URLs in email and instant messages with the SiteAdvisor® LIVE add-on
System Requirements
Operating System
Microsoft Windows 10**, 8.1, 8, and 7 (32-bit and 64-bit)
**Windows Enterprise not supported
Supported Browsers
Internet Explorer 9.0 or later
Firefox
Google Chrome
Internet Connection Required High-speed connection recommended
Supported Email Programs
POP3-Windows Mail, Outlook, Netscape, IncrediMail, Thunderbird, Becky, Shuriken MAPI-Outlook Web-MSN/Hotmail or email account with IMAP/POP3 access Required for Anti-Spam Toolbar Windows Mail or Outlook Express 7.0+ Thunderbird 5.0+ McAfee Anti-Spam also supports other POP3 email clients (without SSL) and web accounts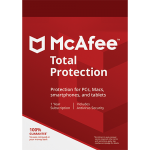 McAfee Total Protection (1 Year, 1 Device) [Download]
Publisher:

McAfee

MPN:

MTPEBF1RAA

Availability:

In Stock
Requires Product Activation (we supply product key)